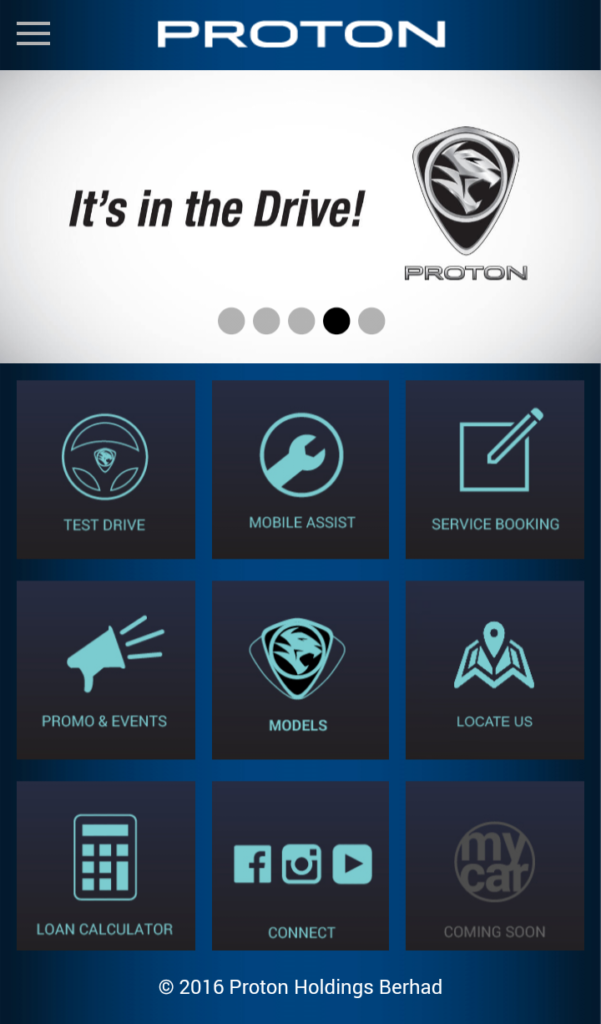 ADVERTISEMENT
Proton has introduced MyProton, a new mobile application intended to provide convenience to Proton customers throughout their ownership of Proton cars and at the same time allowing them and prospective customers the convenience of arranging for test drive of Proton cars.
Through the MyProton mobile application, Proton customers are provided the following convenience at their fingertips via their mobile devices such as:
Appointment to test drive Proton cars
Appointment for car service
Connection to Mobile Assist call centre for assistance
Information on all Proton models
Update on current promotions and events
Location of all Proton sales and services outlets
Connection to Proton social media channels – Facebook, Instagram and Youtube
A loan calculator
"Leveraging on our customers increasing sophistication, we at PROTON can provide easy access for customers to retrieve information at their fingertips. We understand that in today's highly connected environment, the best way to reach and update as well as to service our customers better would be through a Mobile App. It is a natural progression to connect with our customers more efficiently and effectively." said Dato' Ahmad Fuaad Kenali, Chief Executive Officer of Proton.
"Today, most of us are reliant on smart phones in one way or another, for convenience such as making appointments, getting information and even buying products and services. With MyProton Mobile App, our customers can now use their smart phones, amongst others, to make appointments to service their cars and to test drive Proton cars." Dato' Fuaad added.
In the next phase of its development, MyProton will provide easy access for customers to check their car booking status, view their car service history, get reminders for their next car service as well as many other conveniences.
The app is now available for FREE download in both Google Play Store and Apple App Store.