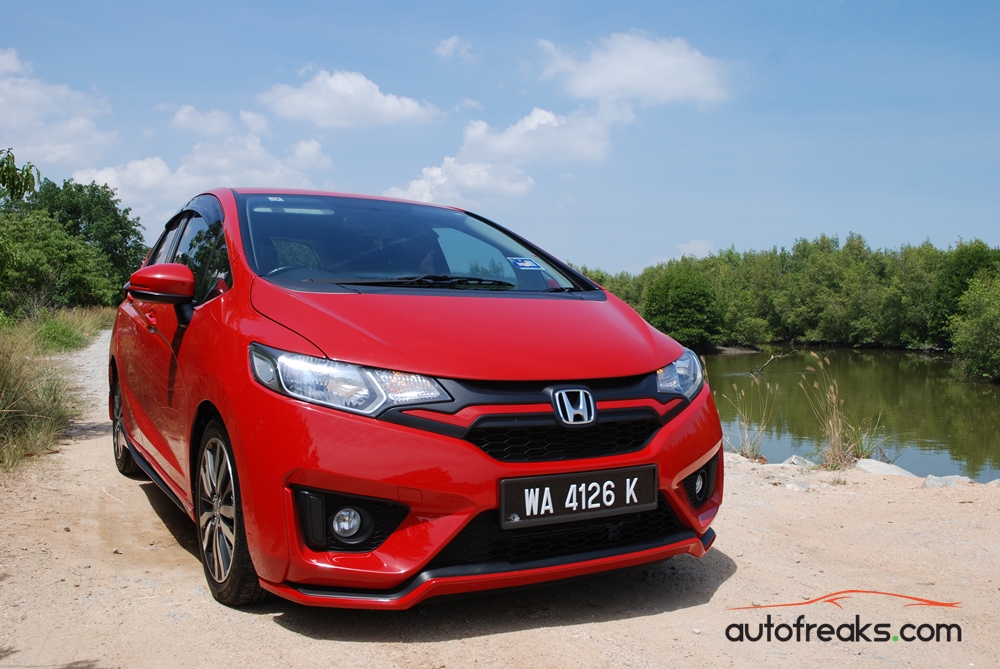 ADVERTISEMENT
Festivities holidays can be one of the most hectic times of the year, especially when millions of locals traverse from north to south, east and west, back to their hometowns to enjoy the long break with their families and loved ones.
A five hour journey can be stretched from six to ten hours and rest stops and petrol stations will be flooded with hundreds of road users lining up to fill-up and recharge.
Yep, this scenario can be really daunting because let's face it, nobody enjoys spending agonizing hours sitting idle in a traffic.
However, you can still have a smooth sailing roadtrip if you are well prepared and own a reliable and dependable car like, well the Honda Jazz for example, which just happened to be my 2016 Raya car thanks to HMSB!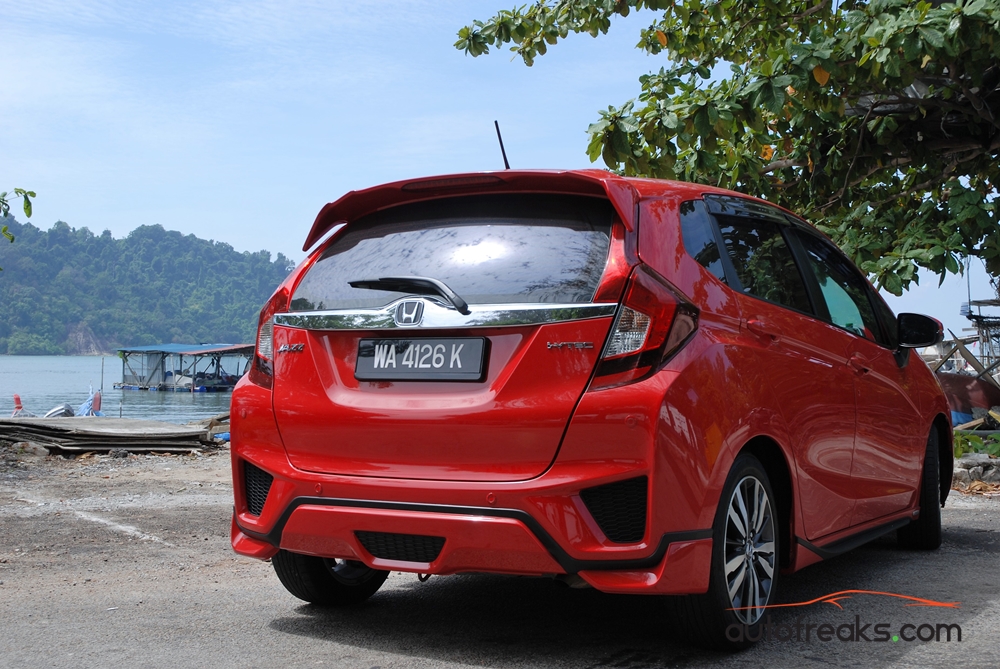 Launched in 2014, the Honda Jazz continues to appeal to the younger crowd of buyers with its personalization options and the introduction of a vibrant new colour dubbed Carnival Red.
My test unit here is fully accessorized with the Modulo package that includes front lower splitter, side skirts, rear diffuser, illuminated side step, tailgate spoiler as well as an aggressive-looking front grille. These optional extras will cost you an additional RM4,173 over your stock Jazz price tag.
On top of that, the Jazz can be further upgraded with a Modulo Utility package that consists of tinted windows, door visor, trunk tray and sport pedals for an extra RM1,625. As a result, you'll have this one sporty looking Jazz that looks a lot more distinctive than the stock-standard model.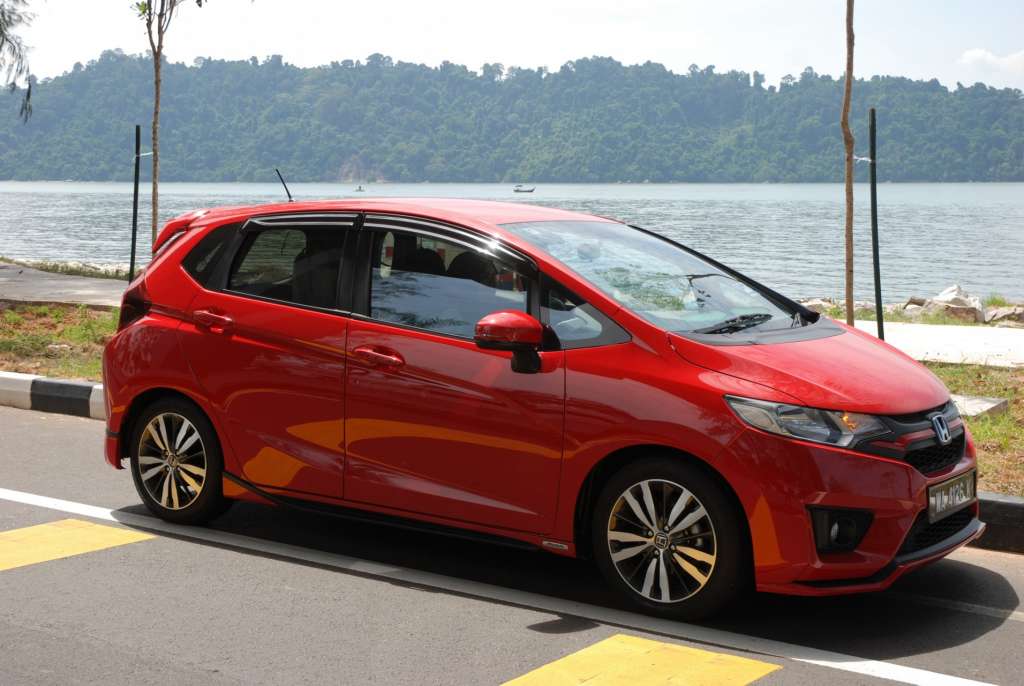 Don't be fooled by its compact size though, because the Jazz is more like a mini MPV thanks to its clever interior design. It has a cavernous boot which came in handy during my balik kampung journey because I could basically chuck in two cabin size bags in the rear – though it could fit three – on top of duffel bags, backpacks, etc. It offers a total of 354-litres of boot space but it can be further expanded up to 1,314-litres when the rear seats are folded down flat.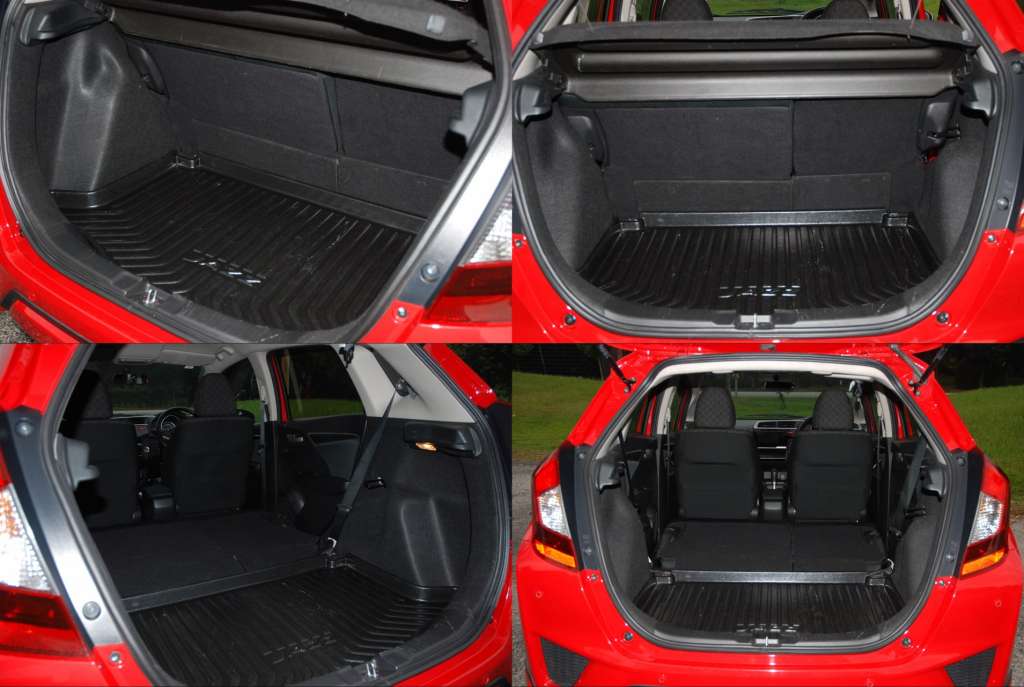 The rear-seats allow you to hide away stuff underneath it or you can fold them up if you need to load tall items like a plant for example, without having to sacrifice on boot space. Its overall practicality makes the Honda Jazz one of the best superminis in the market to transport items around.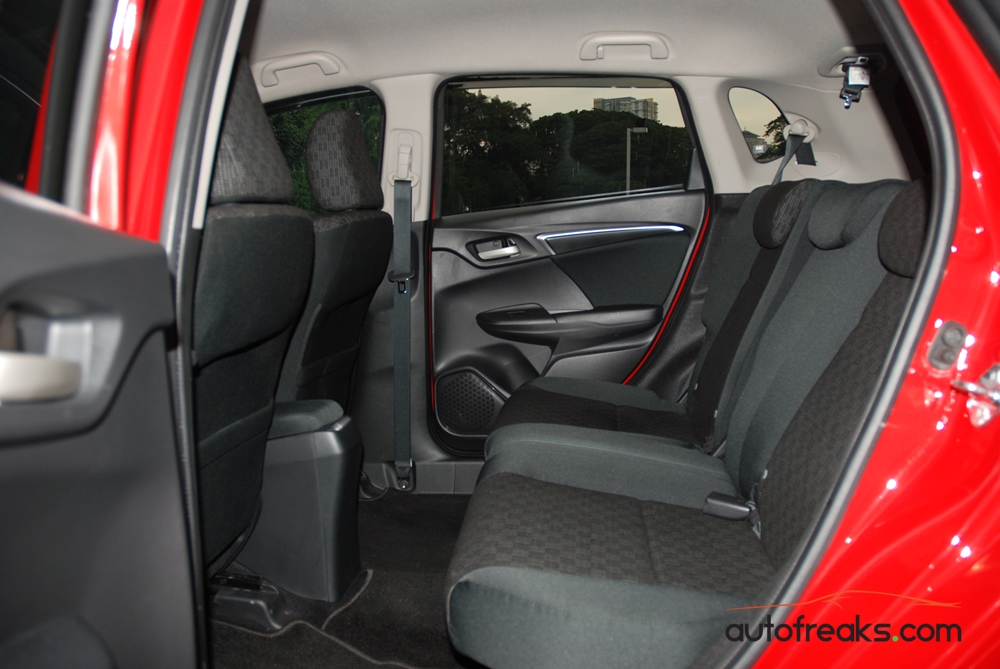 Before embarking on my long distance journey, I made sure that there was plenty of bottled water to keep my occupants and I hydrated on the road, therefore, having 7 cup holders in the Honda Jazz really helps!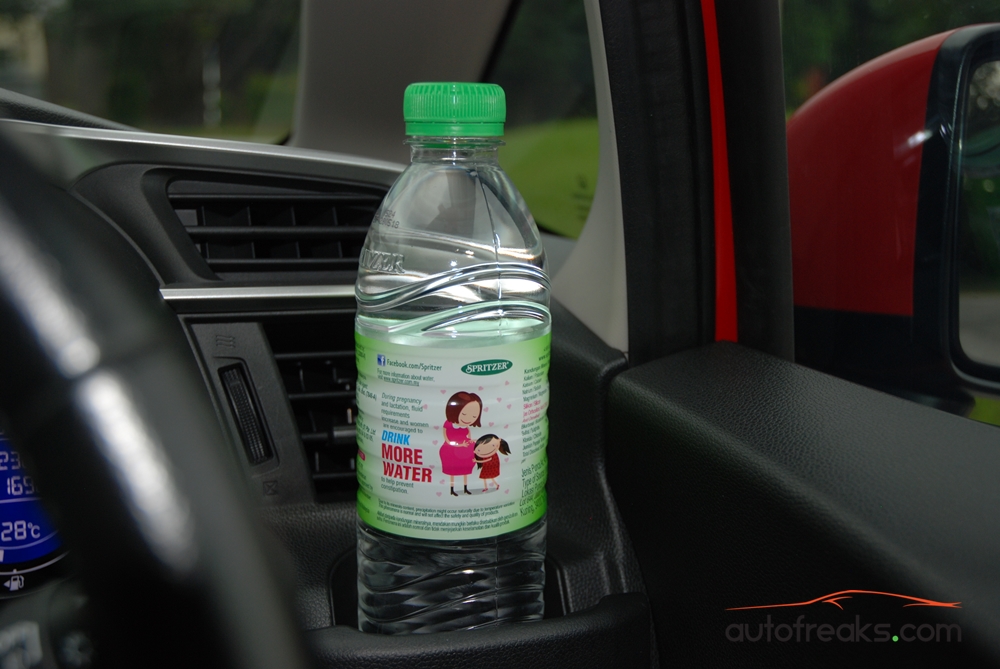 Getting the correct driving position is essential to make you feel less fatigued and more comfortable on the road after hours of getting caught in traffic. Thanks to the Honda Jazz's high-riding position, adjustable steering wheel and supportive seats, anybody in any size can get the ideal driving position desired.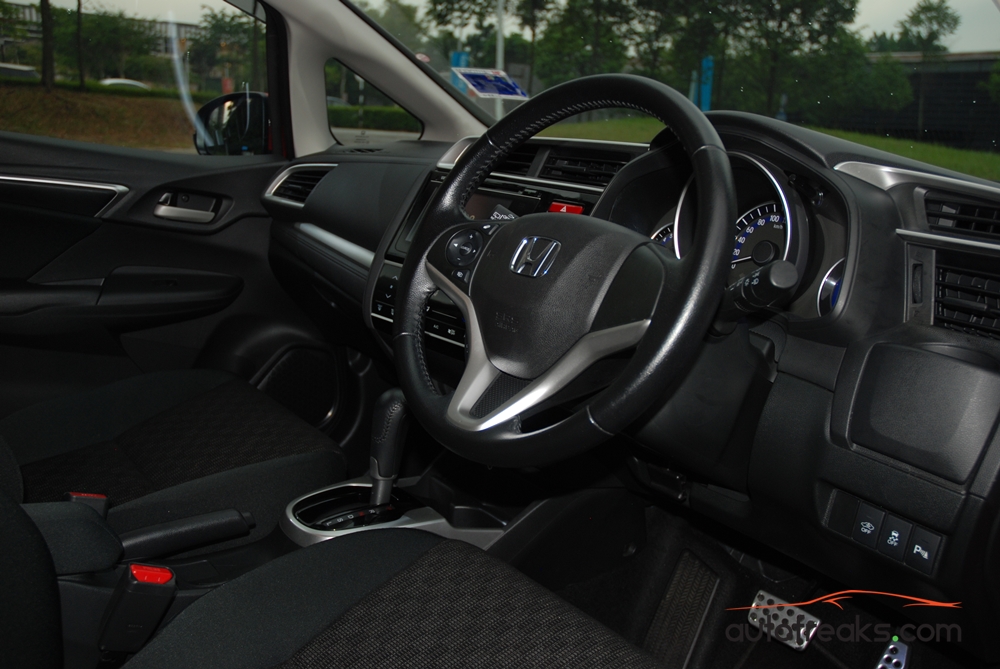 Out in the open road, the 1.5L SOHC i-VTEC engine coupled with the Continuous Variable Transmission (CVT) found under the Jazz's hood requires a little work to achieve its maximum power output, but once it reaches a certain speed, the drive is smooth and predictable nonetheless.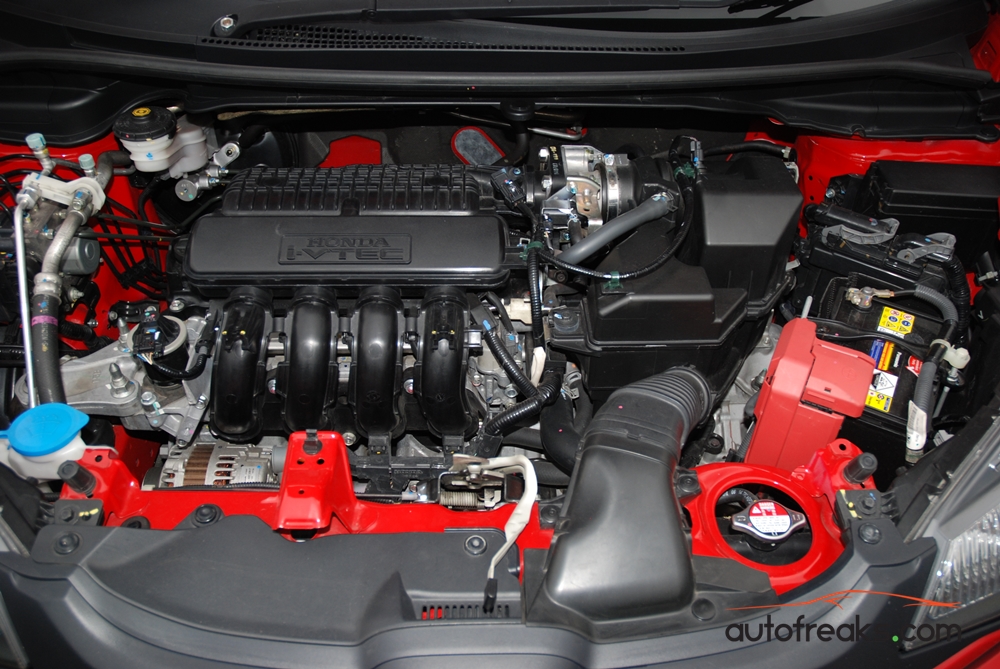 The engine itself is a capable performer for a car in this size producing 120PS and 145Nm of torque, and I like the fact that it makes driving a simple task, which is perfect for daily city commuting.
The Continuous Variable Transmission (CVT) does however cause the Jazz to have an unsettling engine noise, especially when you rev it hard but it is economical nonetheless. On average, it delivers excellent fuel economy of 14.0km/litre overall on a combination of stop and go traffic and highway driving; so it's safe to say that the Jazz will be fairly inexpensive to run daily. Plus with an auto gearbox, it is more comfortable to drive especially when getting stuck in heavy traffic, therefore, I couldn't have chosen a better car for my balik kampung roadtrip.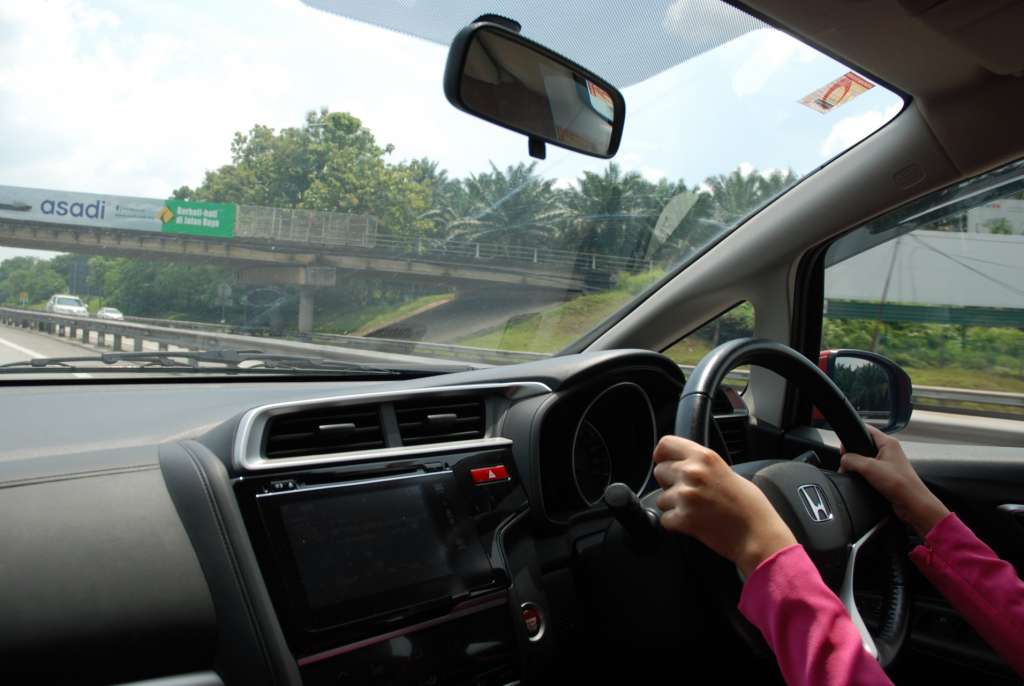 My only gripe is that the brakes aren't quick enough to 'bite' so it offers little reassurance when you need to make a sudden stop.
For tech savvy buyers, we recommend you getting the V trim as tested here as it comes with everything you're going to need like automatic air conditioning and a 7-inch display audio that host several functions like radio with CD player, Bluetooth, USB, AUX, HDMI connectivity. Alas, the touch screen unit available in the Jazz is not touch sensitive enough and it takes a long time to respond. It also looks a little dated and you'll end up leaving fingerprints all over the screen whenever you need to turn the radio on, for instance.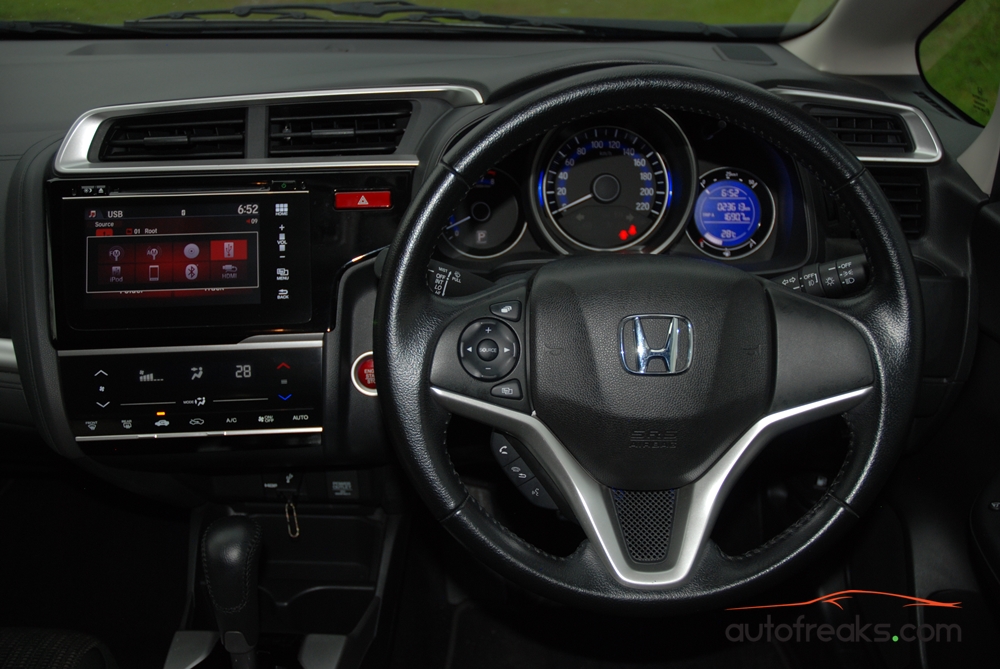 On the plus side, the Honda Jazz comes with a Hands-Free Telephone (HFT) Control Steering Wheel Switch that allows me to make a phone call without the risk of lifting my hands off the steering wheel. This proved to be very convenient, especially when I had to call to my relatives and friends asking for their house address when visiting them during Hari Raya.
I'm glad to say that despite getting caught in 13 hours of gridlock traffic from Georgetown to Nilai on the fourth day of Hari Raya, and after having covered a total of 1374km, I had one of the most fuss-free driving experiences during my one week with this little hatchback. Though it may be less exciting behind the wheel than the Ford Fiesta, the Honda Jazz is still my top pick when shopping for a practical and reliable hatchback that requires very little effort to run and enjoy.
SPECIFICATION: Honda Jazz 1.5L V
Engine: 1497cc 4-Cylinders 16 Valve SOHC i-VTEC engine
Power: 120PS @ 6600 rpm
Torque: 145Nm @ 4600rpm
Transmission: Continuous Variable Transmission (CVT)
Price: RM86, 723 OTR including GST without insurance
Travel Tips For a Safe and Smooth Drive During Festive Holidays!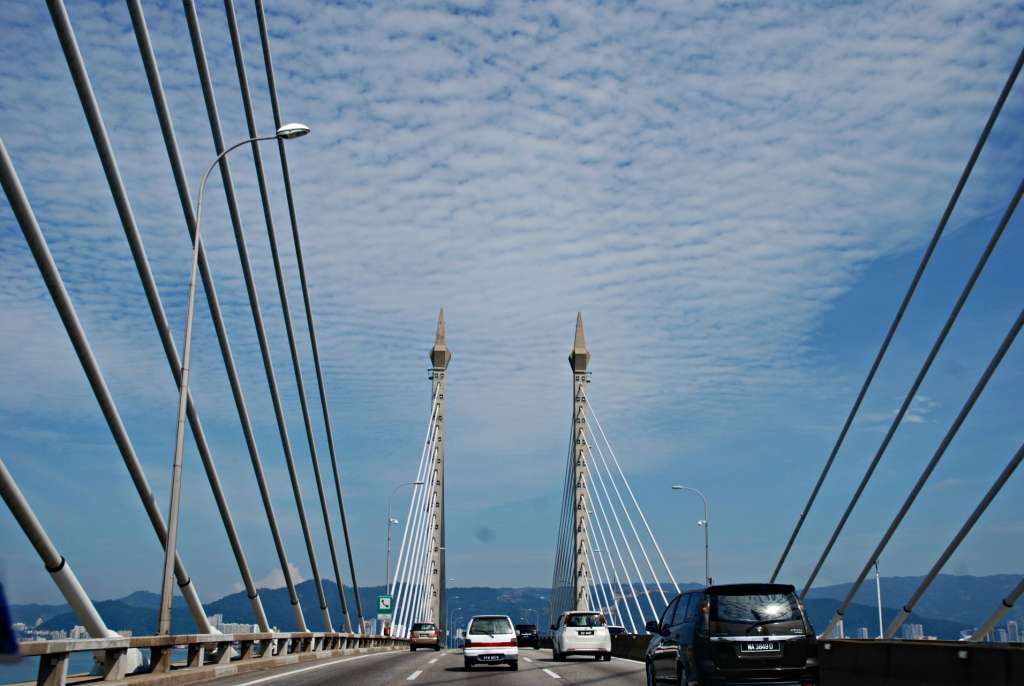 1. A simple maintenance task can make a difference between cruising comfortably to your destination and sitting by the side of the road with a punctured tyre or overheating vehicle, so don't forget to do some basic maintenance to your vehicle before you embark on your journey.
Make sure that your tyres are properly inflated and check if your engine oil, transmission fluid, brake fluid and coolant needs to be topped up. All these simple precautions will give a little peace of mind when hitting the road.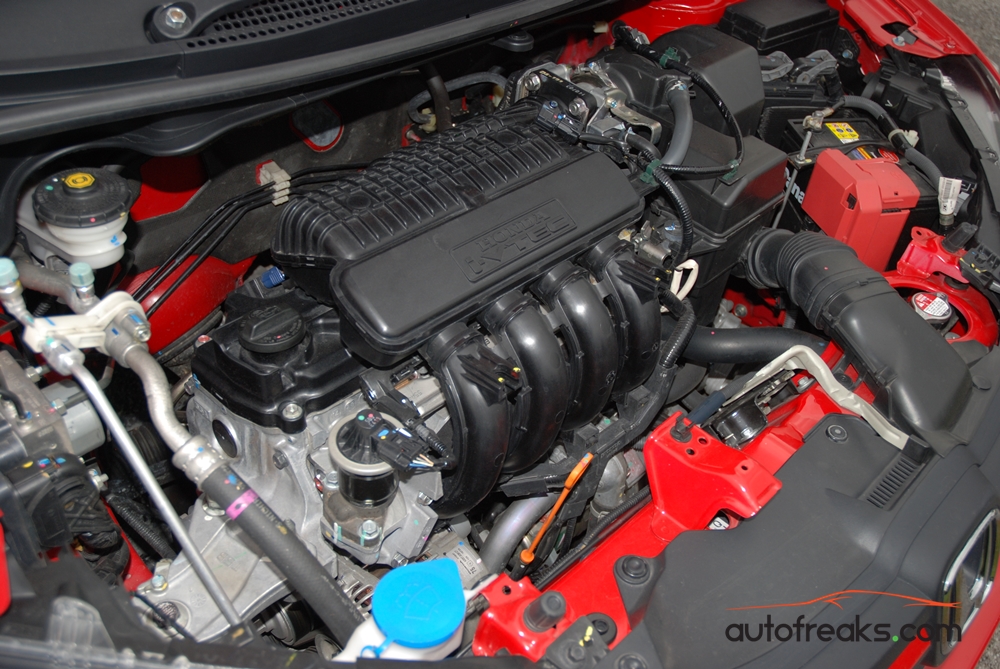 2. Keep up to date with the latest traffic info before you begin your journey or leave early in the morning where the traffic is still at ease.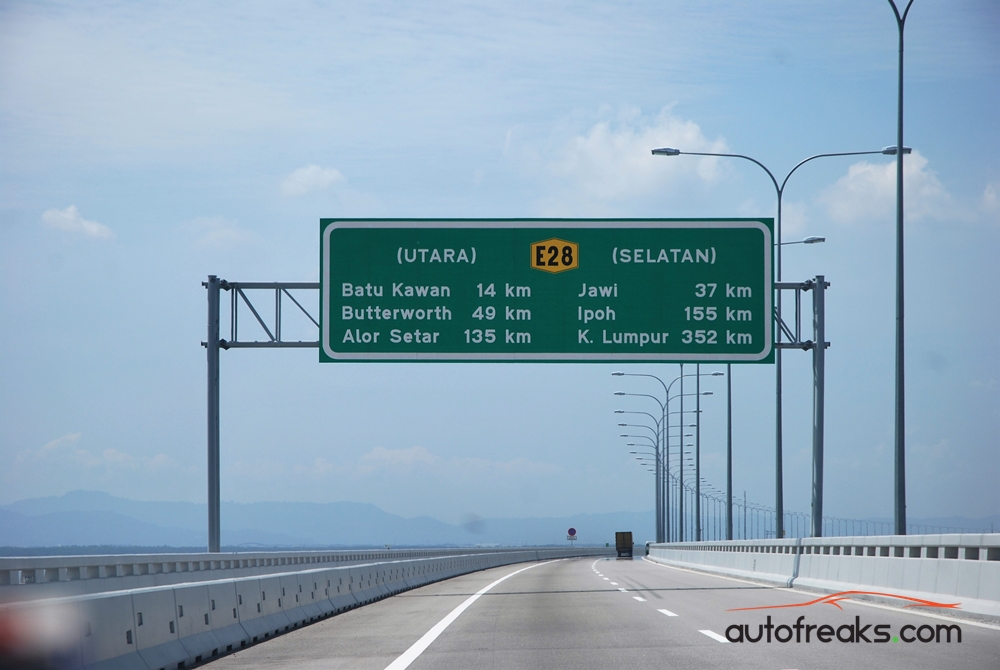 3. Plan your rest stops wisely. With holiday traffic, anticipate the crowd at petrol stations and rest stops where hundreds of fellow motorists will be lining up to fuel-up and recharge, so the more frequent stops you make, the longer it will take for you to reach your destination.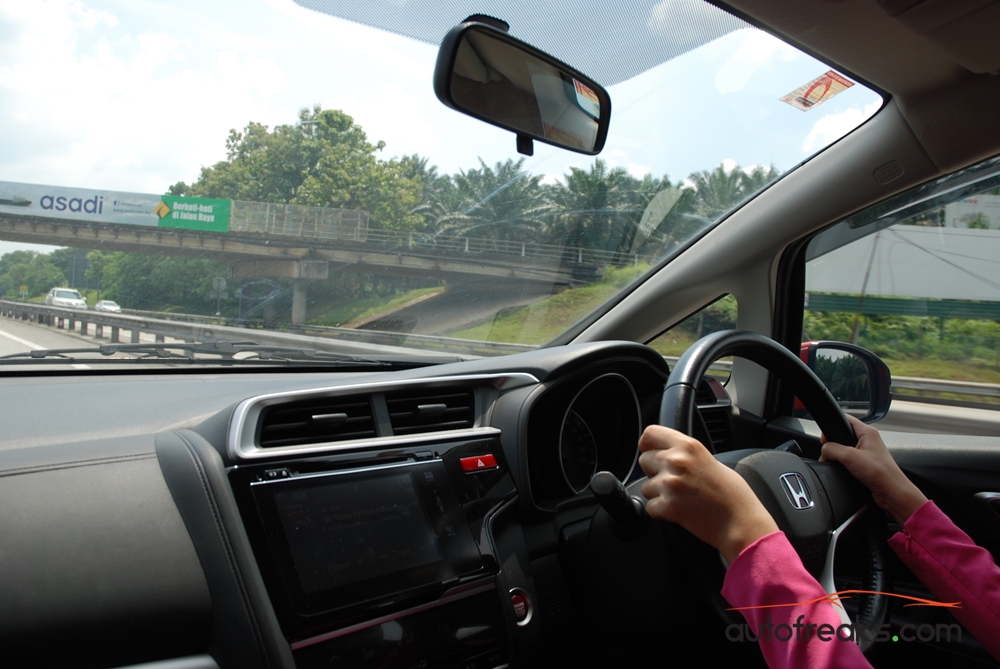 4. If you're filling up fuel, don't leave your car at the pump when you go the store to get some snacks or drinks. This will cause more congestion at the petrol stations as other road users wait for their turn.
5. Despite the exhaustion of getting caught in an endless traffic situation, don't leave your manners at home. For instance, when cruising down the highway, make sure you maintain a constant speed and keep adequate space between your car and the car in front of you so that you will have enough time to make evasive movement in case the car in front of you makes a sudden emergency brake. If someone is trying to pass you, don't speed up and block them, instead maneuver to the left to let them pass.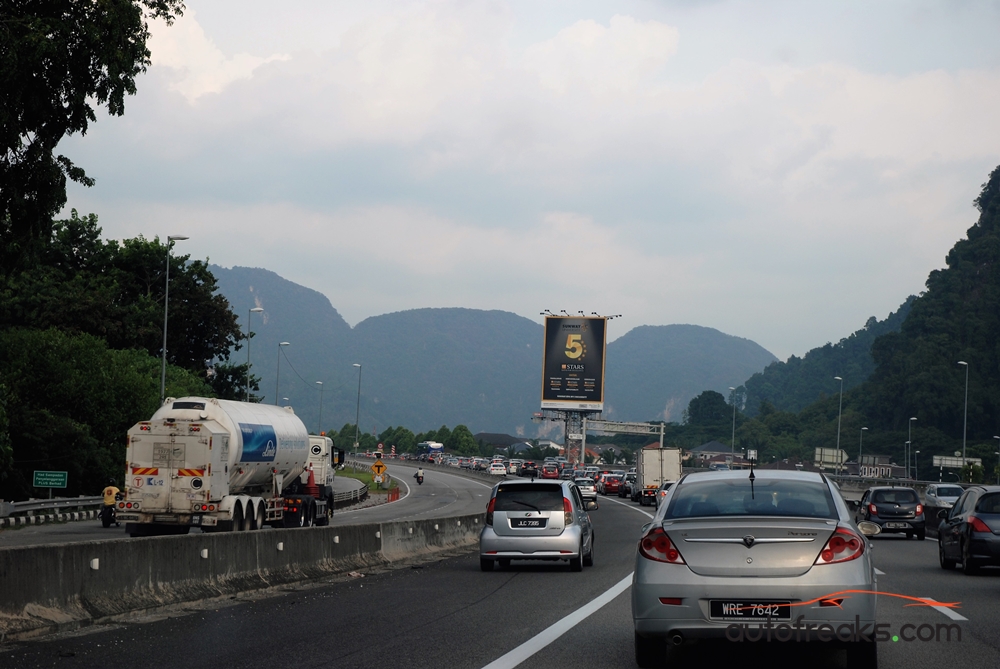 More importantly, do not use the emergence lane unless if it's a matter of emergency.
6. Unless you're an expert at multitasking, seeking for directions, driving and talking on the phone at the same time can cause you swerve or dawdle your car to the left of right uncontrollably. It's not only dangerous to you, but to the occupants and other road users as well. If you really need to make a phone call, make sure you leave it on hands-free mode.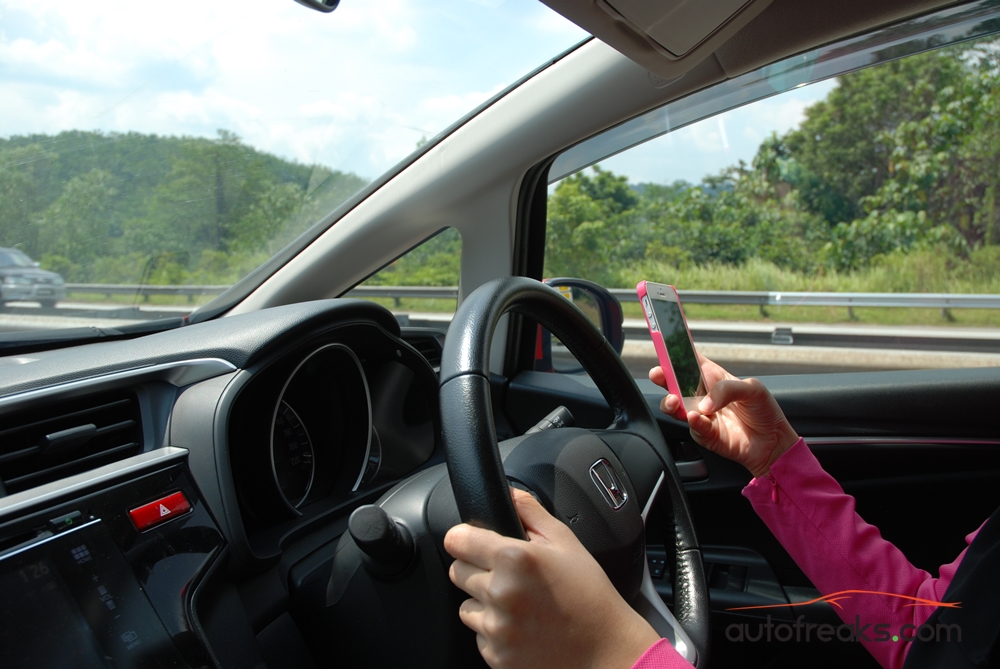 7. If you're driving on dark, unlit roads, by all means, turn your high beams on to stay safe. However, if another car is coming right in front you, or if you are driving on well-lit city roads, don't forget to turn it off because blinding oncoming traffic will cause other drivers to temporarily lose control of their vehicles and have them collide head-on with you.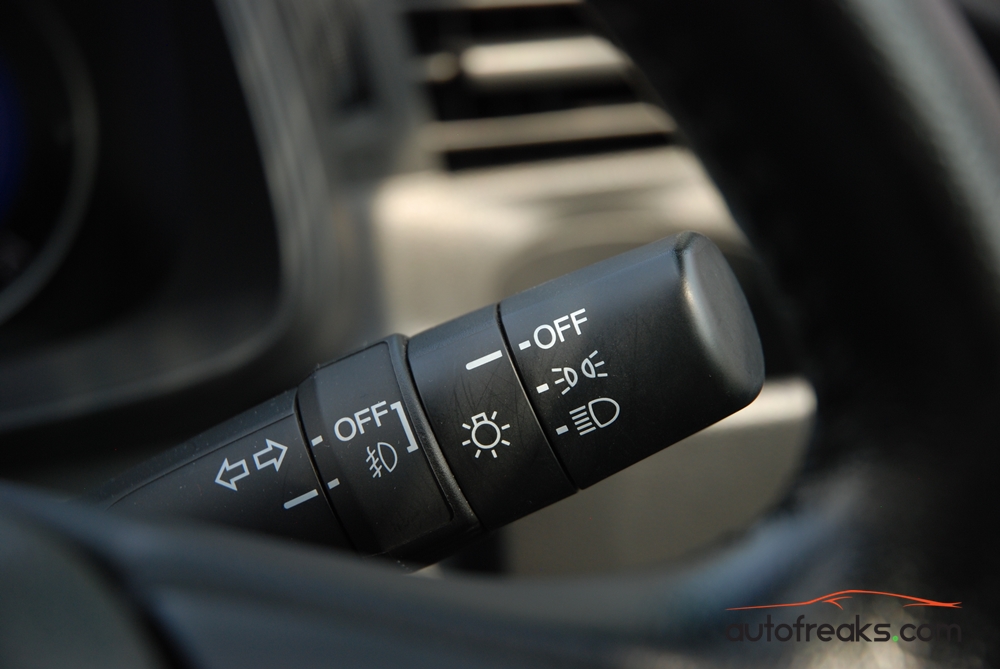 Running your high beams while driving behind another vehicle will also cause a similar effect, only this time the car ahead will crash and you'll end up rear-ending them. Either way, it's a lose-lose situation for everyone involved – especially you. So make sure you make clever use of those high beams and only use them if it's really necessary.
Photo Gallery – Honda Jazz V 1.5L