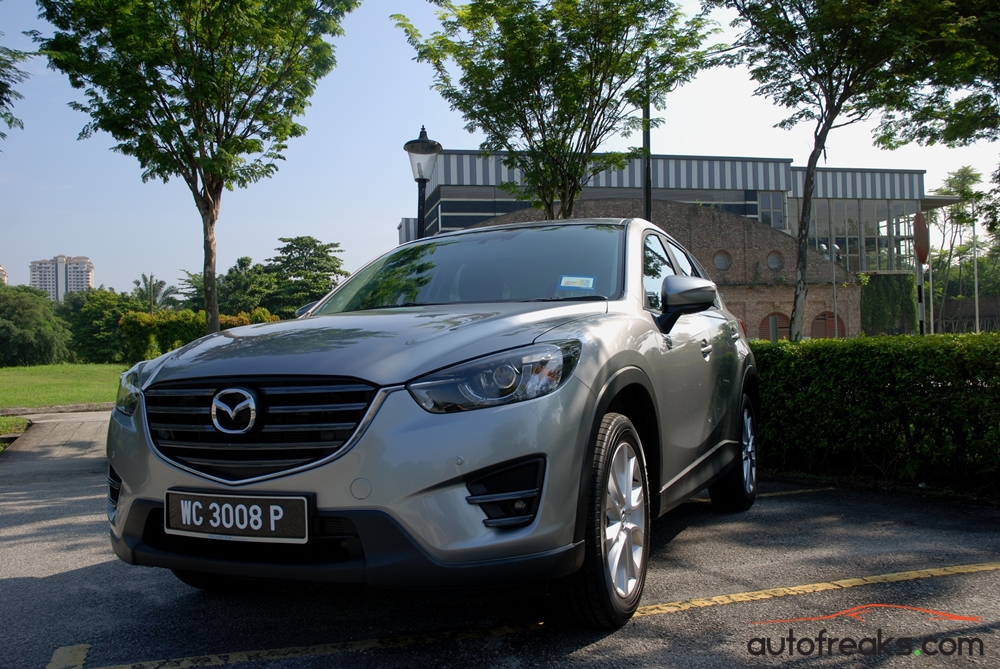 ADVERTISEMENT
Although Mazda may not be the largest car manufacturer in the world, this Hiroshima-based company is highly regarded among car enthusiasts for its well-executed and affordable cars that genuinely fun to drive.
So it comes as no surprise that the Mazda's CX-5 has been, and continues to be, one of the top choices when looking for an SUV.
As Mazda's best-selling crossover, the CX-5 sets the standard in many markets and across many levels, earning admiration and also winning hearts everywhere it goes.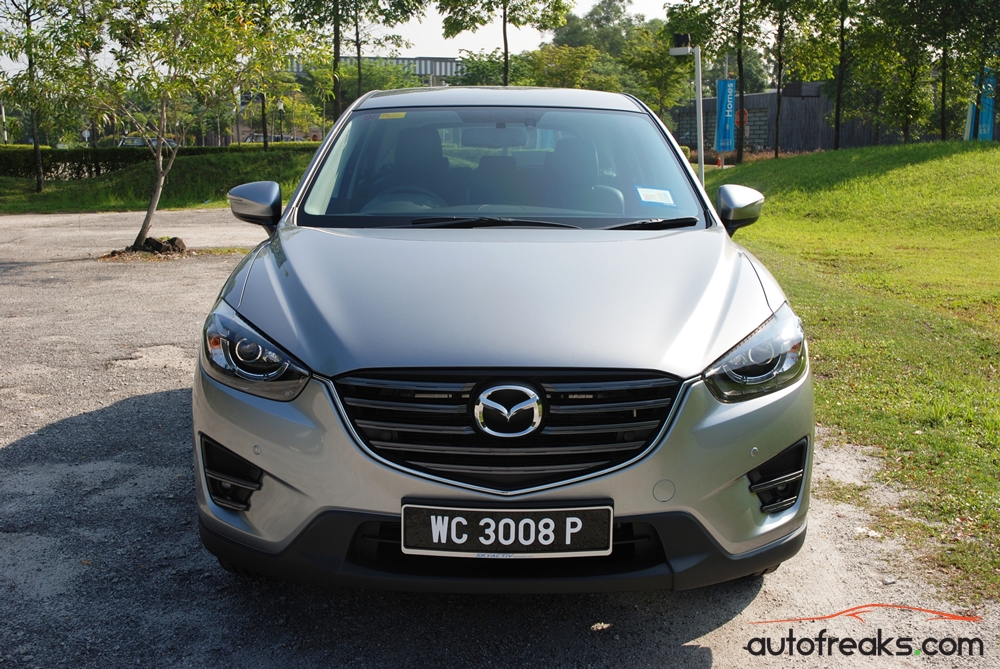 It has earned quite an unprecedented collection of automotive awards worldwide through the year, including in some of the toughest, most matured and discerning markets. Amongst them is the highly prestigious 'Car of the Year' Japan Award for 2012, the Autobytel 2012 Crossover of the Year; the International Federation of Automotive Journalists 2012 SUV of the Year of the Americas, as well as the ASEAN Car of The Year – Best Compact SUV Award for 2015.
Riding on these amazing successes, Mazda thought that the CX-5 could be further improved by giving it a mid-life facelift this year, with the hopes to win more buyer's hearts.
In terms of looks, there are minor visual tweaks that can be seen up in the front. This includes a new front fascia that omits the honeycomb mesh grille pattern, replaced with horizontal slats running lengthwise. The new CX-5 also now incorporates piercing LED front headlamps and Daytime Running Lights, which are available as a standard features in the test unit here, giving it a more premium appearance.

The side profile remains the same, but the 2.5L variant as tested here gains bigger 19-inch alloy wheels, instead of 17-inch wheels found in the 2.0L variant. Moving to the back, the CX-5 now sports new LED taillights as well.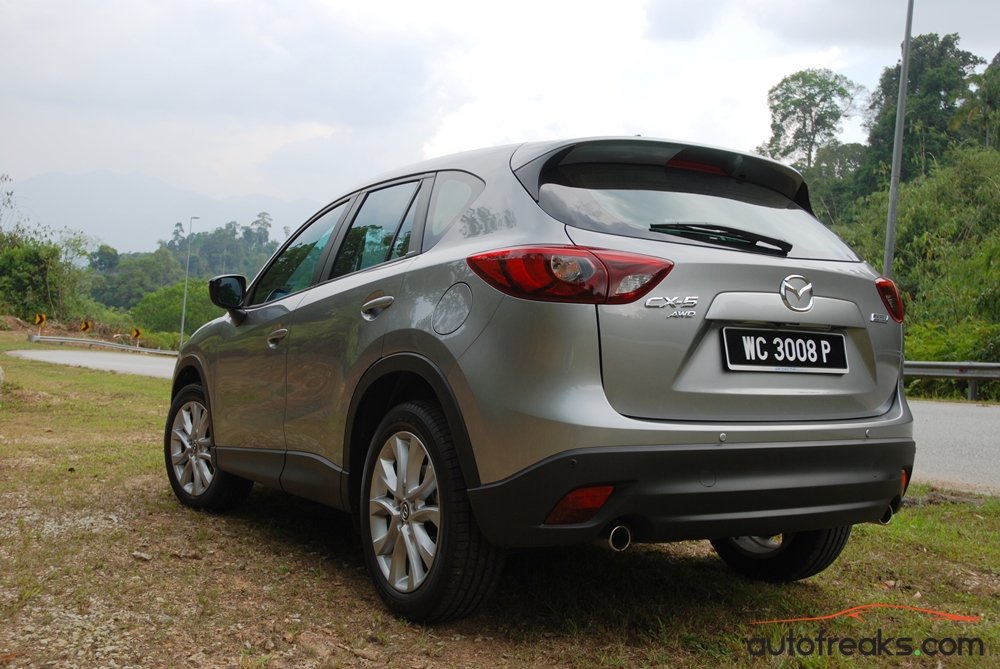 When stepping inside the cabin, the first thing you'll notice is that Mazda has upgraded the technology found on the dashboard with a new infotainment system that incorporates a large 7-inch full colour touch screen display. The infotainment system host a variety of inputs such as USB, AUX and Bluetooth connectivity, on top of a navigation system and a reverse camera and it can be controlled via a multi-function commander control located on the centre console. I do find the navigation system very intuitive and easy to use, plus it comes with really nice high-resolution graphic whilst proving accuracy in navigation.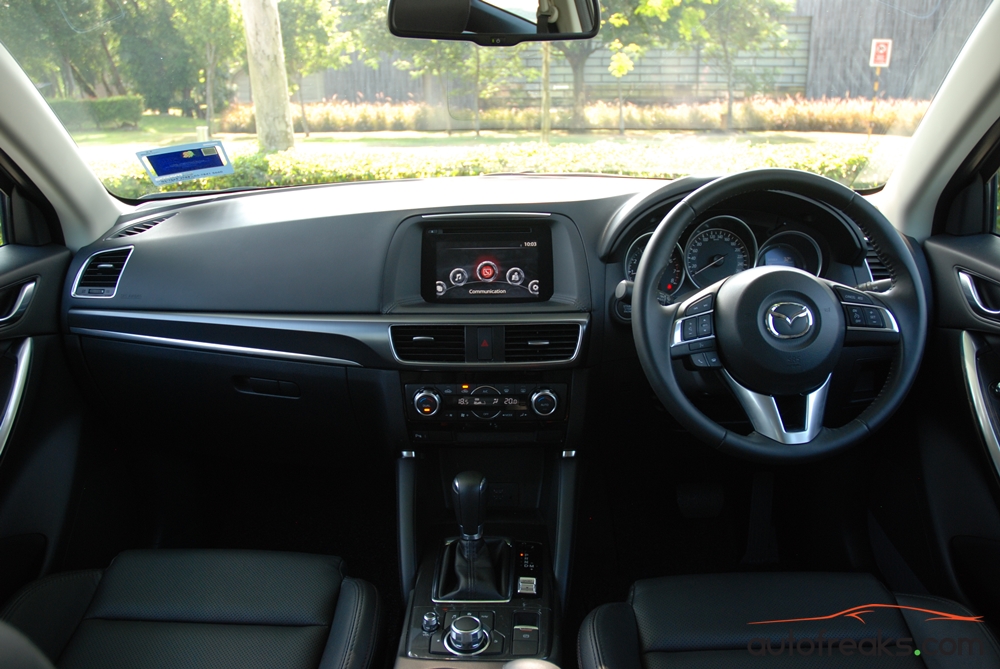 Elsewhere inside, Mazda jazzed-up the CX-5 cabin with more value for money standard kit, such as leather seats, electric-powered driver seat adjustment, as well as an electronic parking brake that frees-up more space around the centre console.
Whilst the overall dashboard layout is now more basic and simple compared to its predecessor, I much prefer this new look because it provides a more upmarket and luxurious ambiance to it.

Mazda has also taken away several redundant features like the sunroof and the heated front seats in this facelift model, which makes more sense for us Malaysians since we're less likely able to appreciate such features in our hot tropical climate.
Measuring in at 4,555mm long, 1,840mm wide, 1,670mm tall with a 2,700mm wheelbase, it goes without saying that the CX-5 is undeniably roomier compared to its smaller brethren, the CX-3. Hence, after having tested the CX-3 a couple months back, the extra cabin space available the CX-5 feels like getting an upgrade to business class on a flight.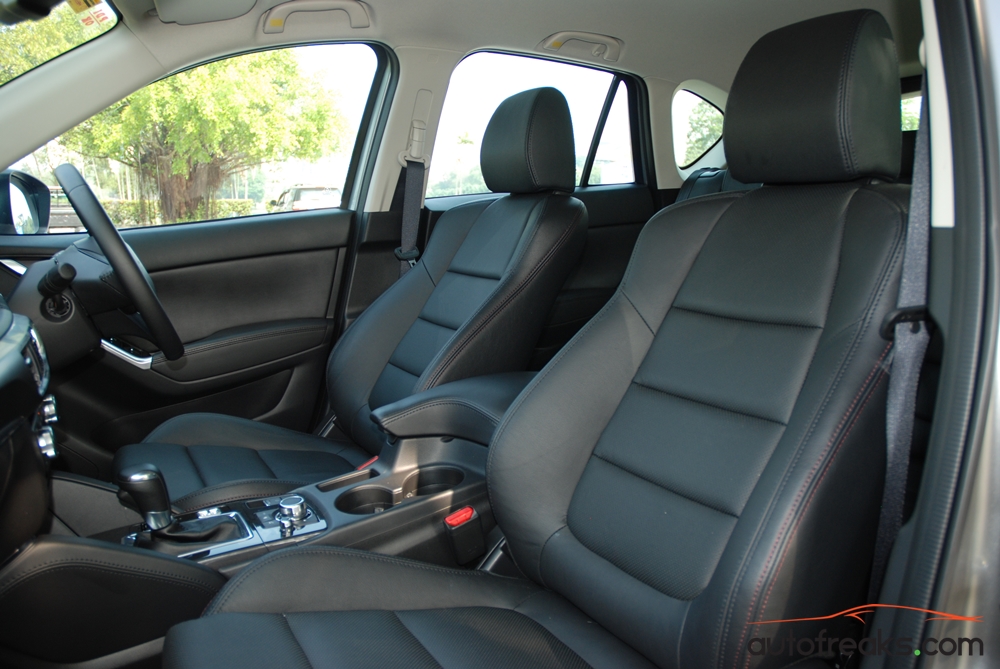 While the rear seats in the CX-3 lack legroom, the CX-5 on the other hand provides more space for you to stretch your legs. Three adults will be able to sit comfortably in the back, but surprisingly, it does not come with rear air-cond vents.
The CX-5 also offers a bigger boot capacity of 403-litres compared to the 350-litre of boot size found in the CX-3. If you require extra space, you can tumble the rear seats by pulling a handle. This will free-up more room for you to carry bulky or extra long items.
My test unit here is powered by a 2.5-litre SkyActiv-G direct-injected four-cylinder petrol engine that churns out 184hp and 250 Nm of torque. All the engine power is distributed to i-Activ all-wheel drive system via a 6-speed SkyActiv-Drive automatic transmission.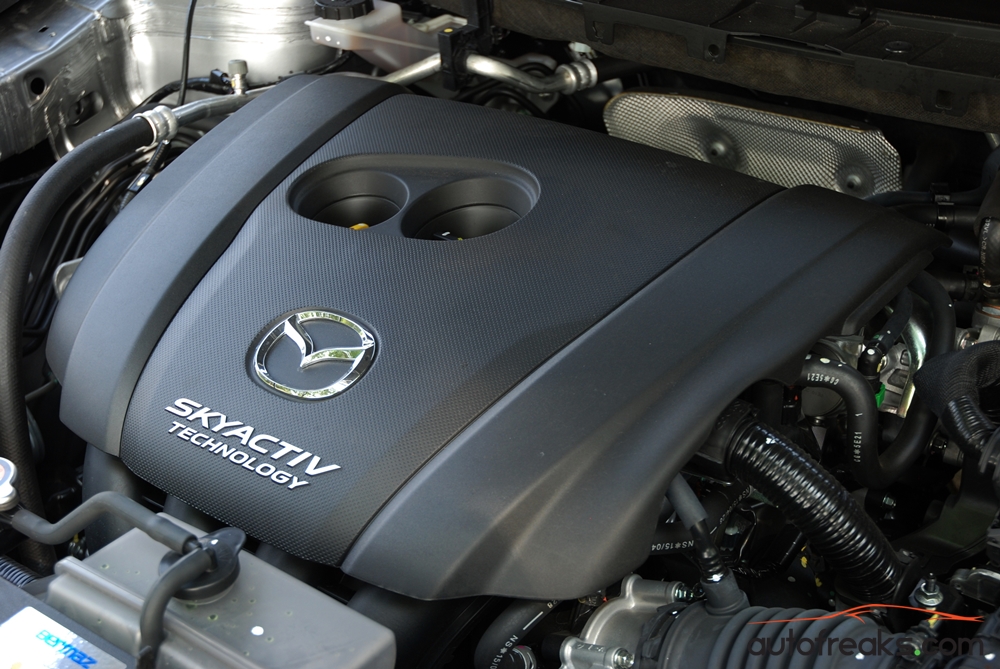 Given its relatively heavier and bigger dimensions, the CX-5 does not feel sluggish at all, in fact its bigger engine provides enough "zoom-zoom" for a decent highway sprint.
Mazda wants us to believe that this high-riding crossover could replicate the fun-to-drive and sporty DNA found in its MX-5 roadster, but in reality, the CX-5 is a typical family-size crossover. Still, if compared to most of its rivals, the CX-5 does provide a more engaging driving-feel from behind the wheel. The Mazda's electrically-powered steering gives excellent feedback to the driver, while its agile handling minimizes body-roll when tackling sharp corners.
Just like other SUVs in its class, suspension is geared towards the firm side of being comfortable, so if driving comfort is something you're looking for, then the CX-5 will not disappoint. The CX-5's driving visibility is also superb from all corners which will inspire driving confidence from behind the wheel.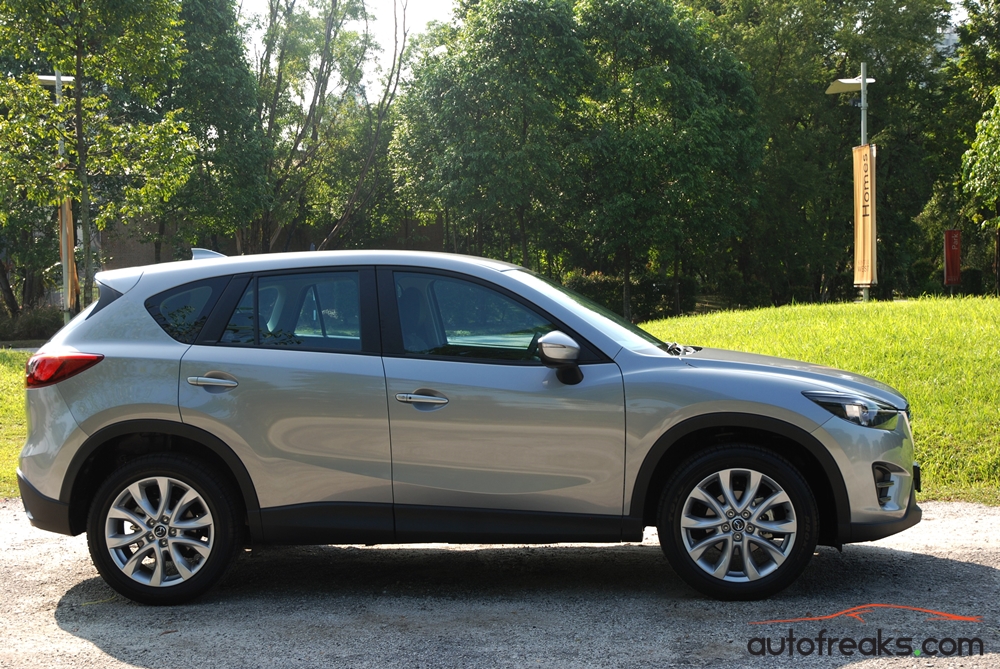 Despite being driven vigorously, the CX-5 can still return outstanding fuel-economy. During my time with this SUV, I managed to achieve an average of 10.0l/100km (according to the trip computer at that time) on a combination of highway and city driving, which is not bad for a mid-size SUV. If it is being driven gently, the CX-5 can return far better fuel-economy than the rest of its competitors in the market.
At the end of the day, it's hard not to fall in love with this refreshed CX-5 crossover, because nearly everything has been carefully considered to suit the needs of Malaysian buyers who are seeking a mid-size SUV. It's practical, comfortable, fuel-efficient and also suitable for long journeys thanks to its roomy cabin and decent size cargo capacity.
The best part about owning a CX-5 is that you'll be able to enjoy free service maintenance for the first three-years, which will lower the overall maintenance cost of your vehicle ownership.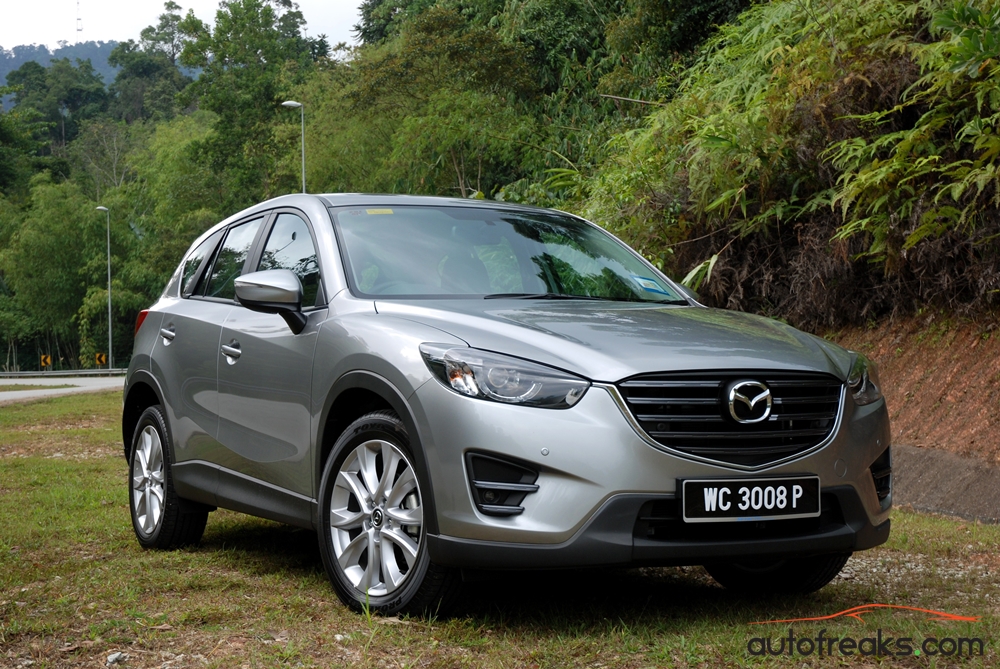 BUYER'S GUIDE
Buyers will get to choose from two types of engines and four trim levels. Locally assembled in Kulim, Kedah, the CX-5 FL can be had in 2.0L 2WD GL or GLS, while the 2.5L comes with a choice of either 2WD or 4WD. The one I had for test here is the top of the line 2.5 FL 4WD that carries a price tag of RM171,219 OTR with insurance.
The most affordable model in the lineup is the basic 2.0L Mid spec that will cost you only RM132,272 OTR with insurance. This basic model is fact, slightly cheaper compared the CX-3 (RM137,102). Of course, It won't be generously kitted with loads of tech and gizmos inside, but if practicality is your biggest concern, then purchasing the bigger size CX-5 would make more financial sense as it offers bigger interior volume.
TRIM LEVELS & PRICE
• CX-5 FL 2.0 2WD GL – RM132, 272 OTR with insurance (solid)
– RM132, 672 OTR with insurance (metallic)
• CX-5 FL 2.0 2WD GLS – RM146, 658 OTR with insurance (solid)
– RM147, 058 OTR with insurance (metallic)
• CX-5 FL 2.5 2WD GLS – RM159, 415 OTR with insurance (solid)
– RM159, 815 OTR with insurance (metallic)
• CX-5 FL 2.5 4WD GLS – RM171, 219 OTR with insurance (solid)
– RM171, 619 OTR with insurance (metallic)
SPECIFICATIONS: Mazda CX-5 FL 2.5 4WD GLS (CKD)
Engine: 2,488 cc 4-Cylinder SkyActiv-G
Power: 185hp @ 5,7000rpm
Torque: 250Nm @ 3,250rpm
Transmission: 6-Speed Automatic All-Wheel Drive
Price: RM171,619 OTR with insurance